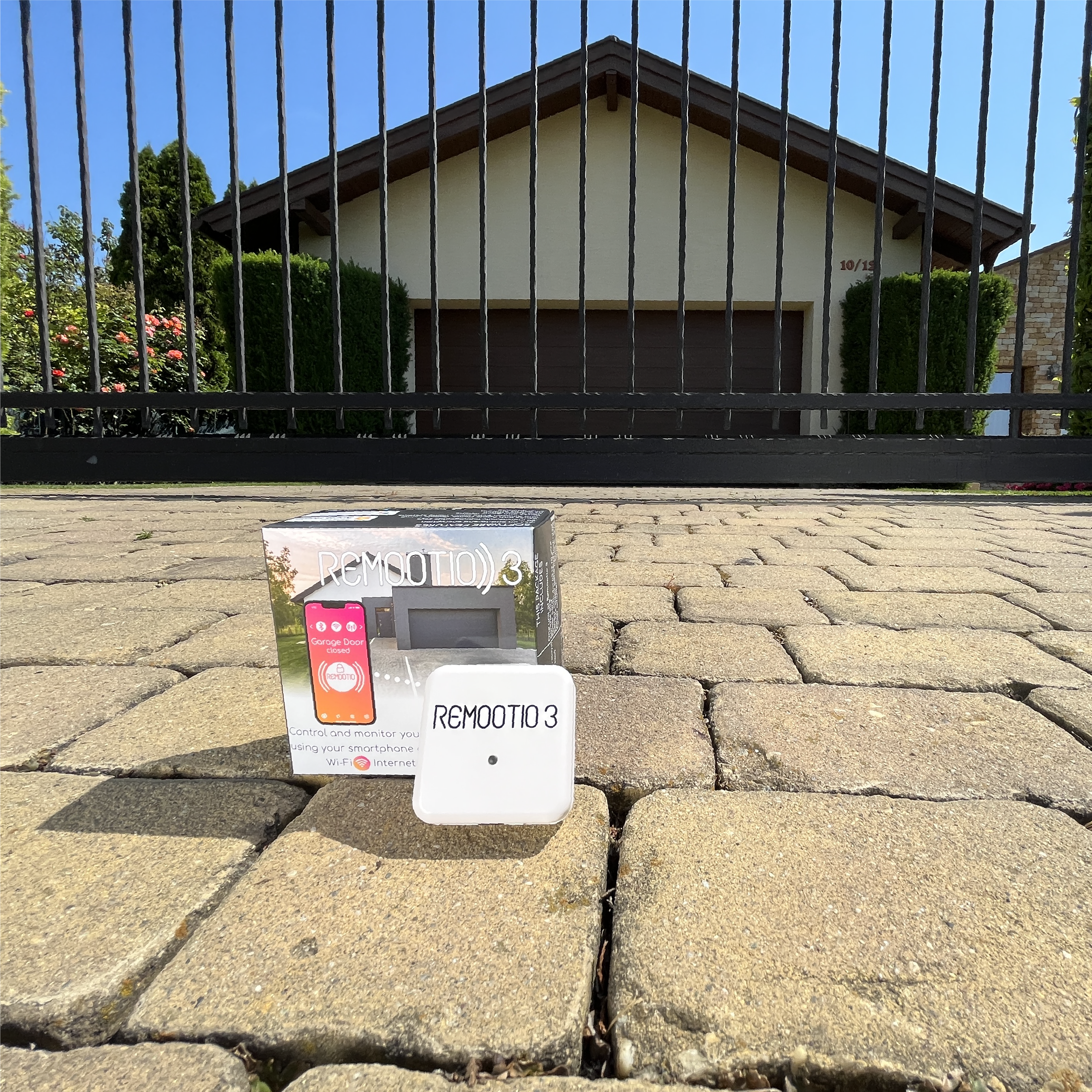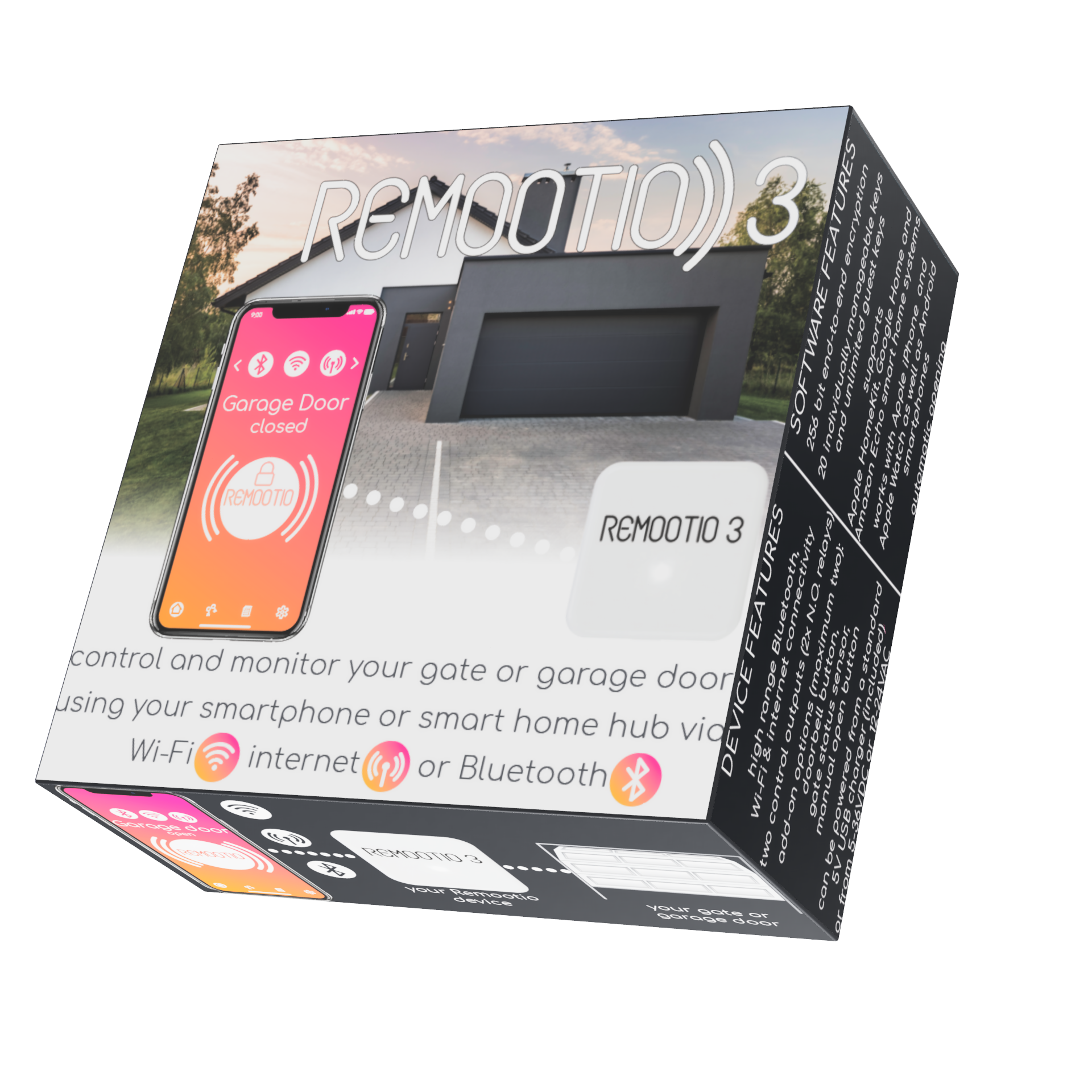 ---
Shipping included. No other costs at checkout.
Three ways to connect
Bluetooth: You can control your gates even when WiFi is not available at your gates or when the internet service is down.
Wi-Fi: Connect Remootio to your home WiFi and control your gates from anywhere within your house. In this mode, no data goes through the internet.
Internet: You can control and monitor your gates from anywhere in the world.
No external bridge or hub is needed. It's all built into the device. 
It also works in parallel with your traditional remote controller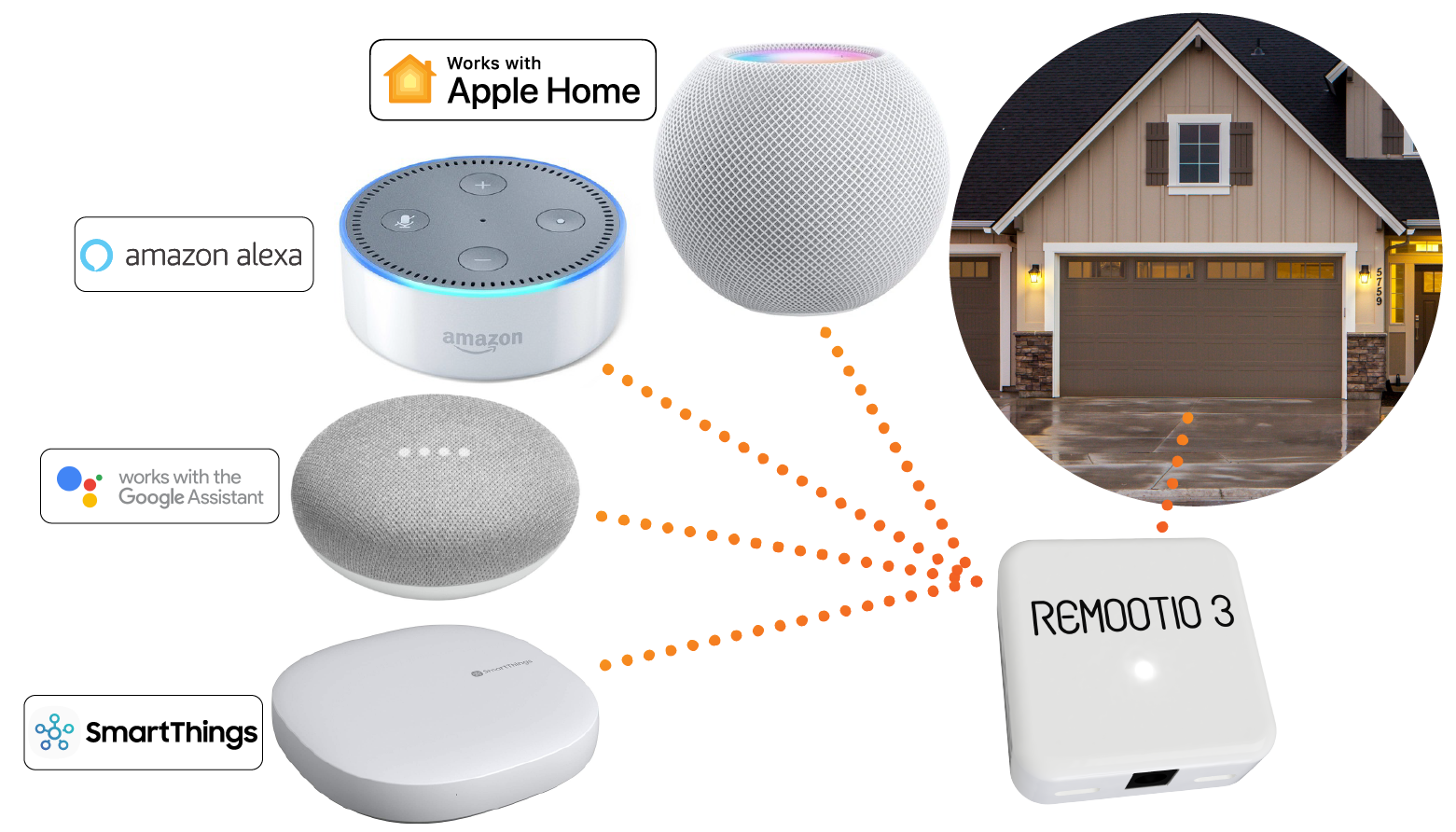 Apple Home, Amazon Alexa, Google Home, Siri, SmartThings
Remootio 3 is compatible with Apple Home, Google Home, Amazon Alexa and SmartThings so you can use voice commands to open or close your garage door.
You can also add a personal phrase in the Remootio app and open or close your gates with Siri shortcuts.
Easy keysharing
You can easily share keys with family and friends or even Airbnb guests via QR code or via text message. (You can also use the messaging platform of any social media apps to share keys).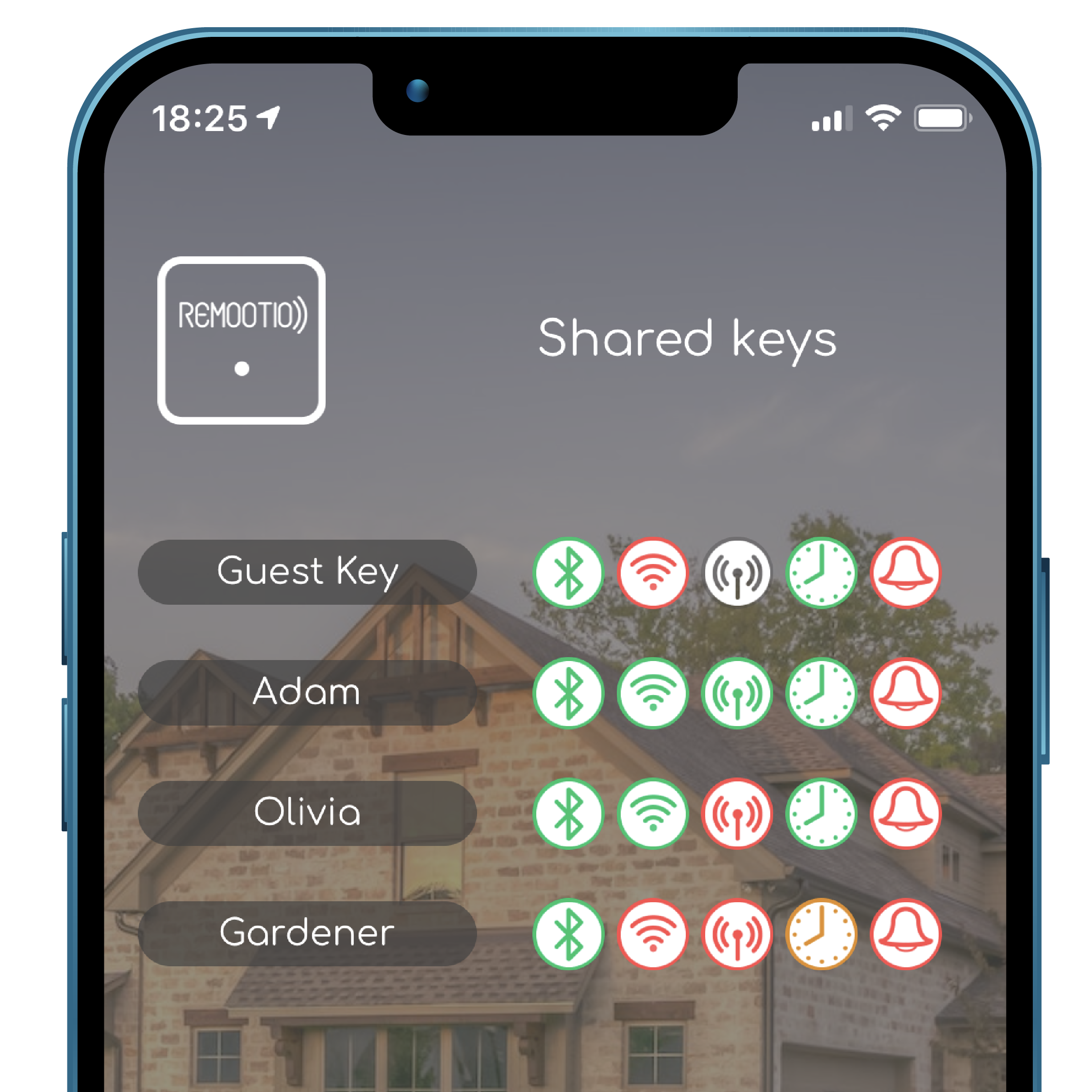 Access right management
Grant or revoke access rights easily from the app.
You have full control over which users have access to your gate or garage via Bluetooth, WiFi and Internet.
(For example you can limit the gardener's key to only work via Bluetooth.)
Limit when users can operate the gates:

Duration based: Set a start date and an end date
(ideal for AirBnB)
Weekly recurring pattern: 
Set a start time and an end time for each day of the week. (For example the gardener can only open on weekdays between 10:00 am and 2:00 pm)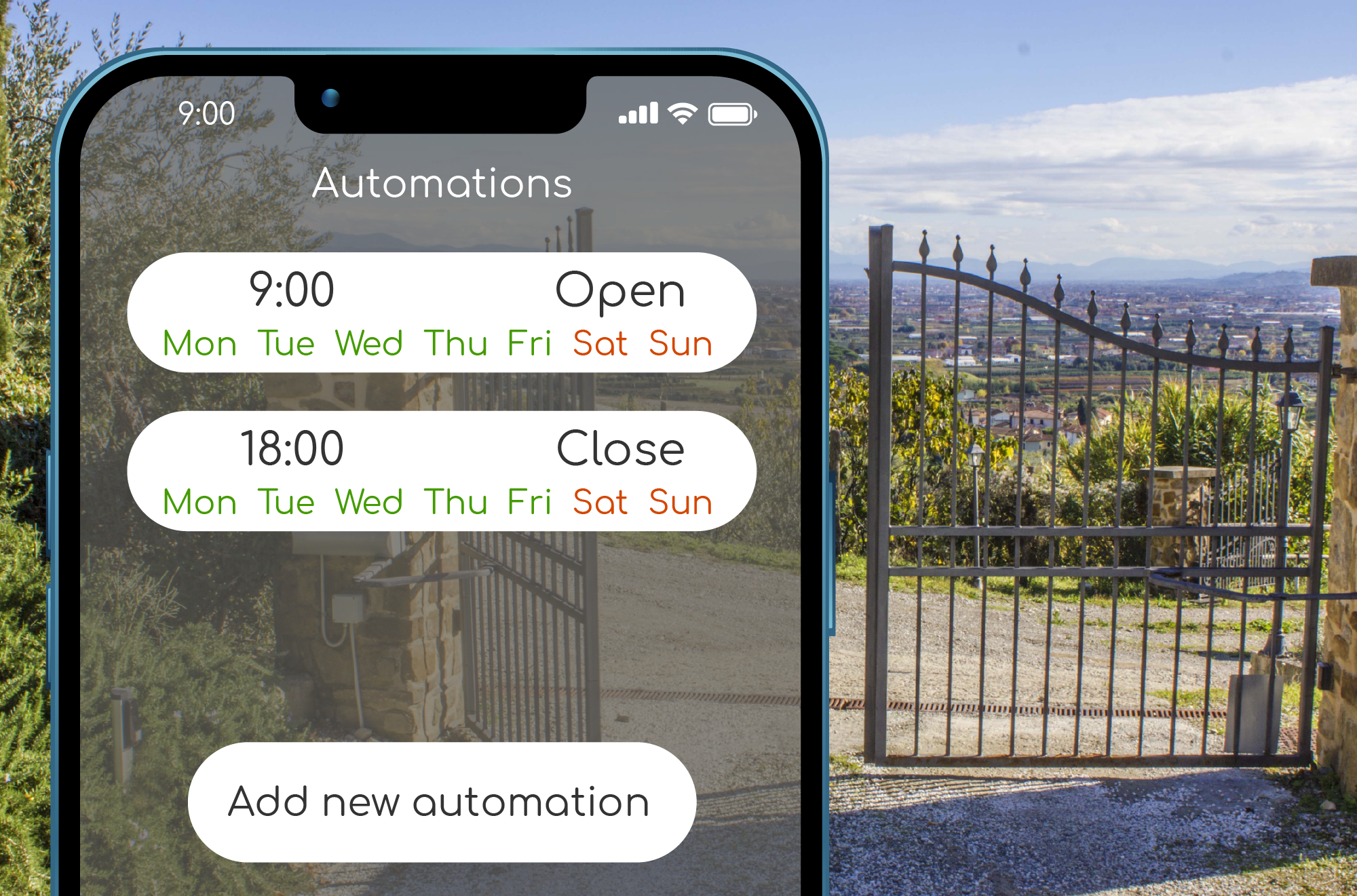 Automations
Close or open your gate or garage door at certain times of the day. You can set up as many automations as you wish.
For example, Remootio can open your gate every working day at 9:00 AM and close it at 6:00 PM. (You can choose any day of the week and any time of the day.)
You can add as many automations as you wish.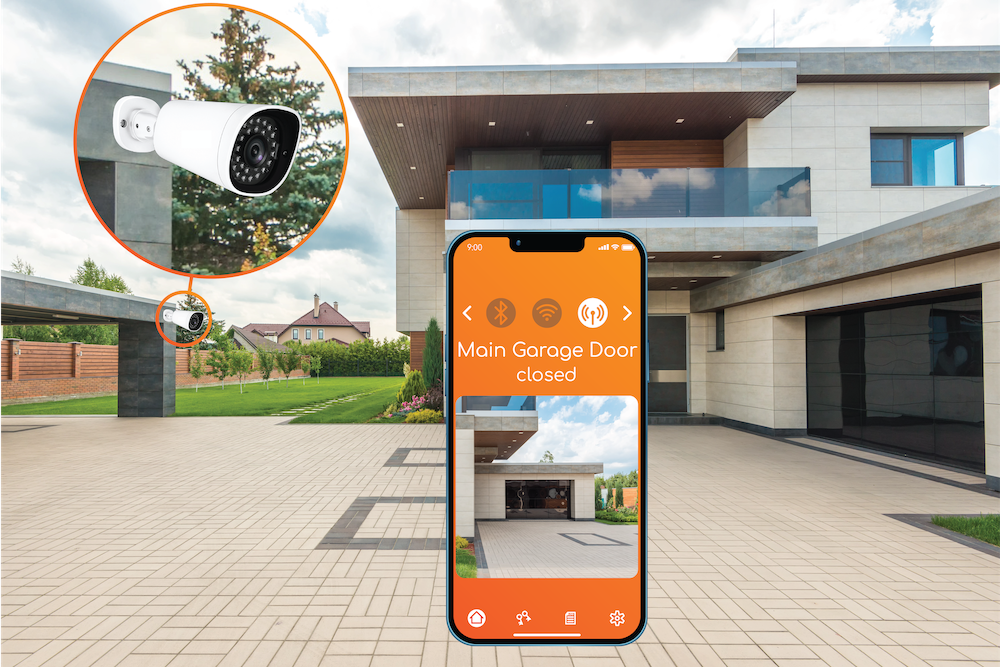 Camera add-on
You can add a Remootio compatible Wi-Fi camera and watch the live stream in the Remootio app.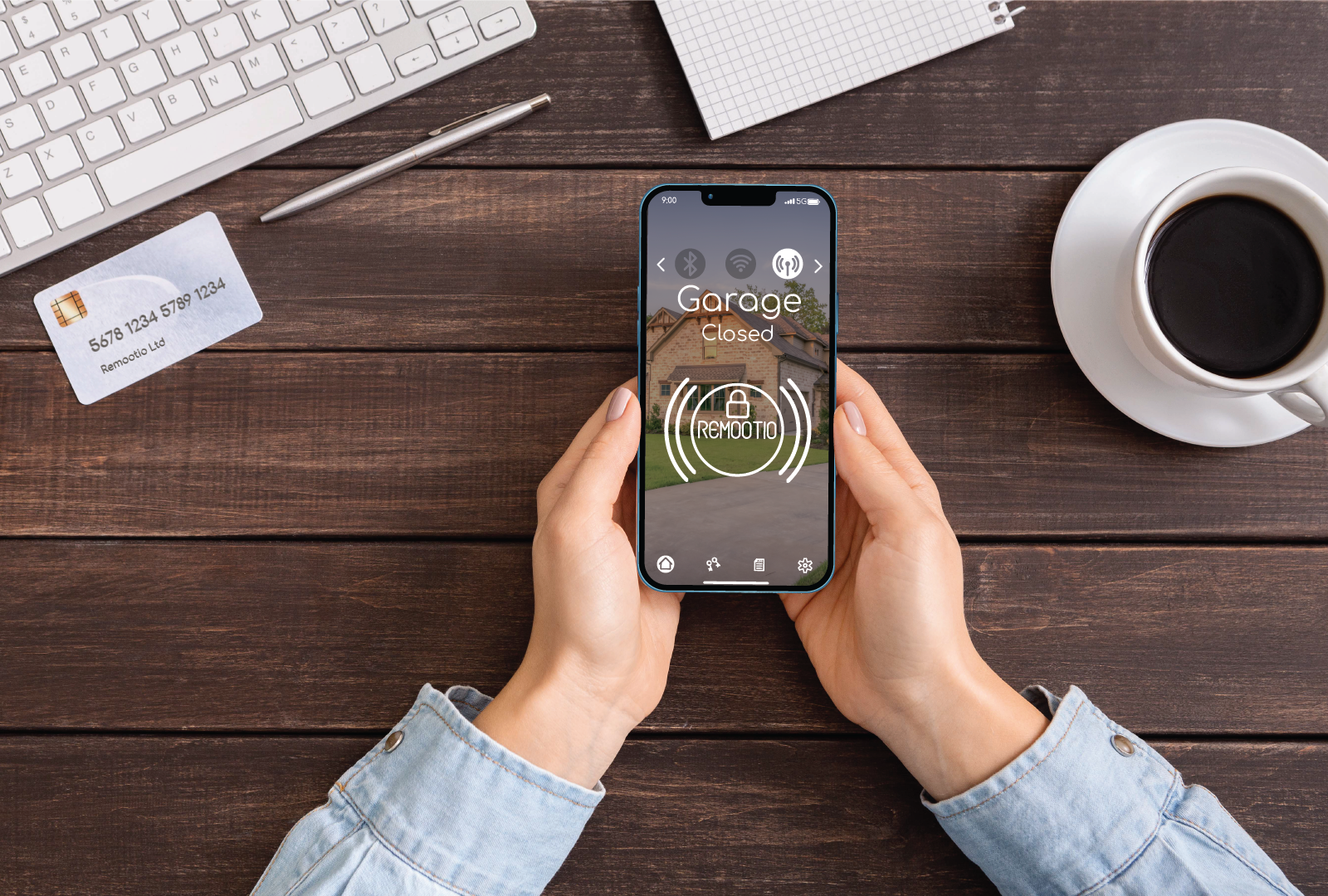 Check gate status
You can check whether your gate is open or closed from the Remootio app any time. You can also ask Alexa or Google home if your garage door is closed.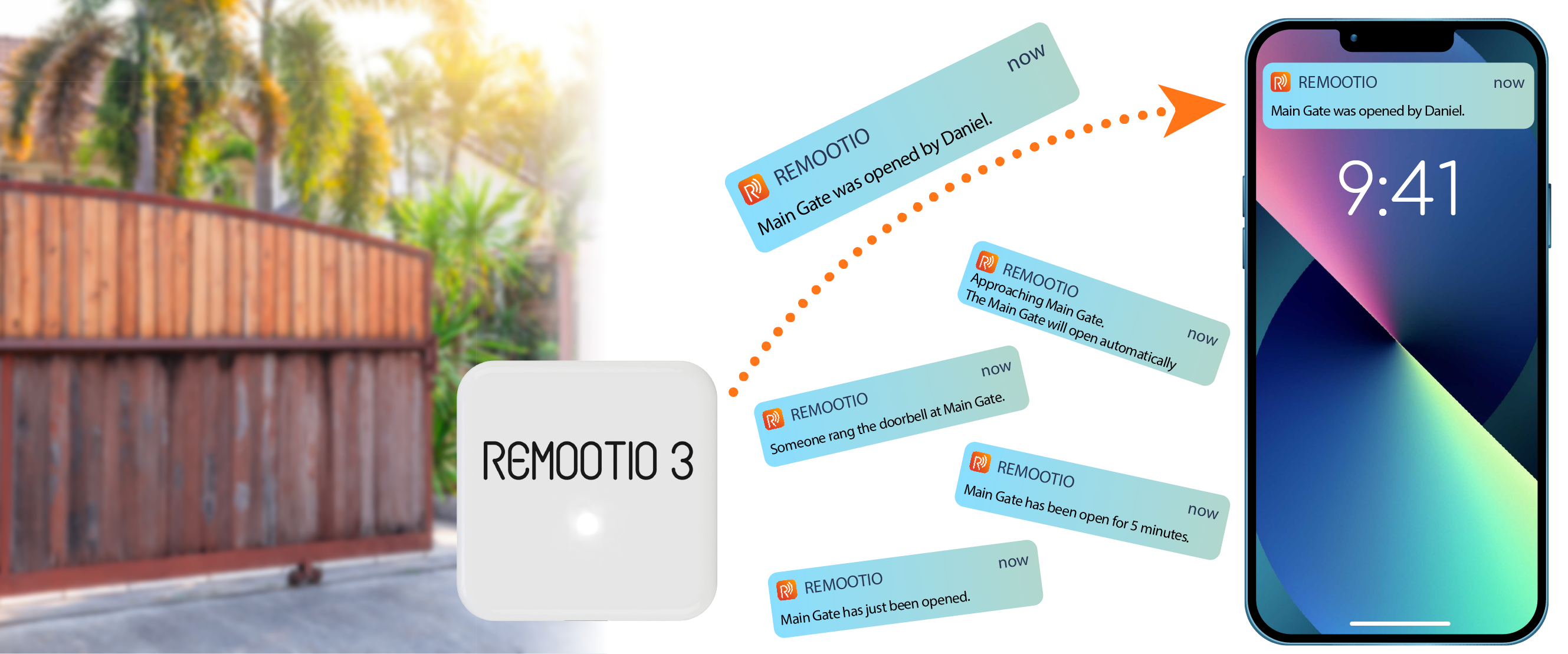 Notifications
Get notified when someone operates your gate, someone rings the doorbell, or when the gate has been left open.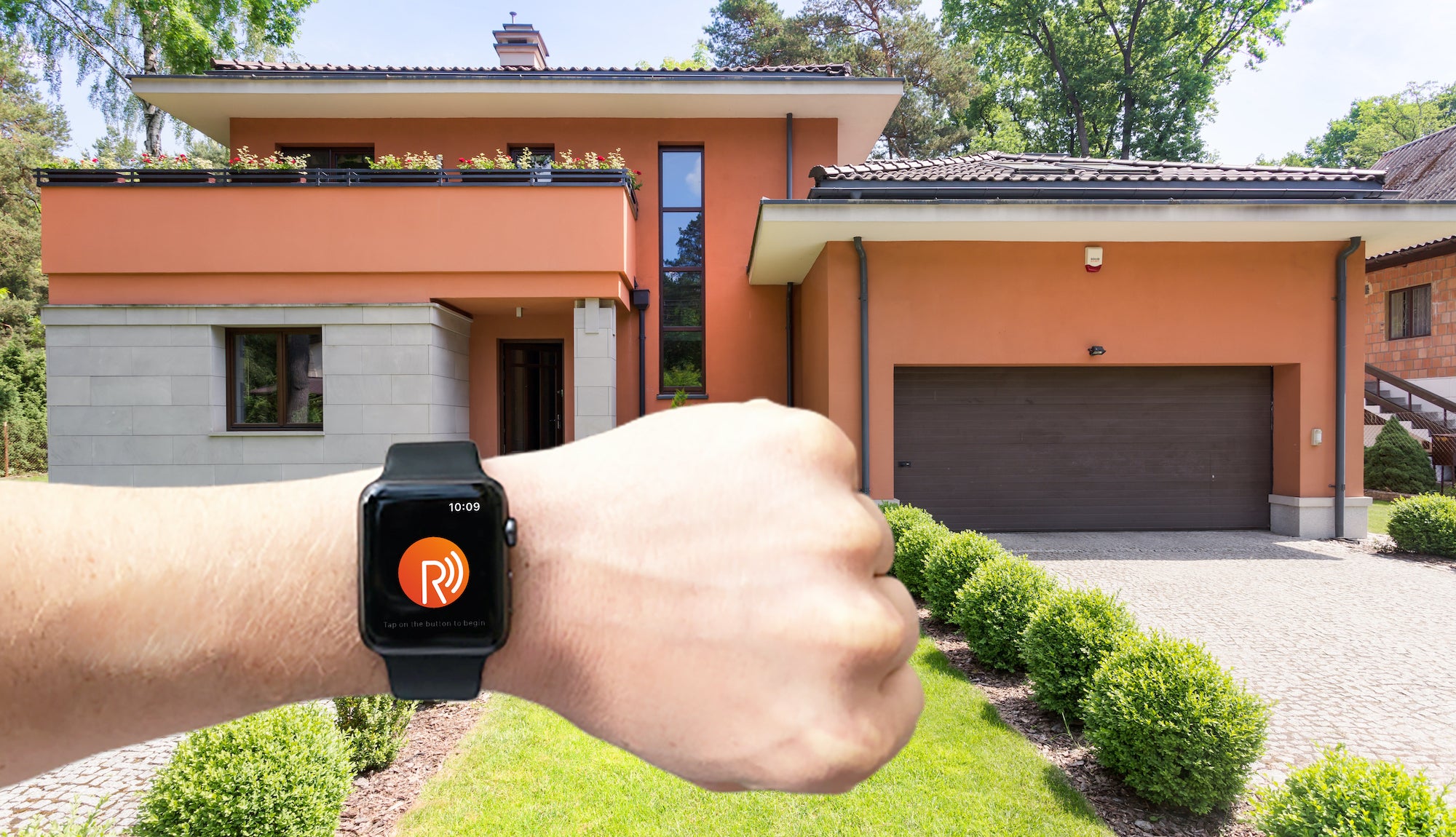 Apple Watch app
Use the Remootio apple watch app to control your gate from your wrist.
Widgets
Open and close your gate or garage door without opening the app using the Remootio widget or the Siri shortcuts widget.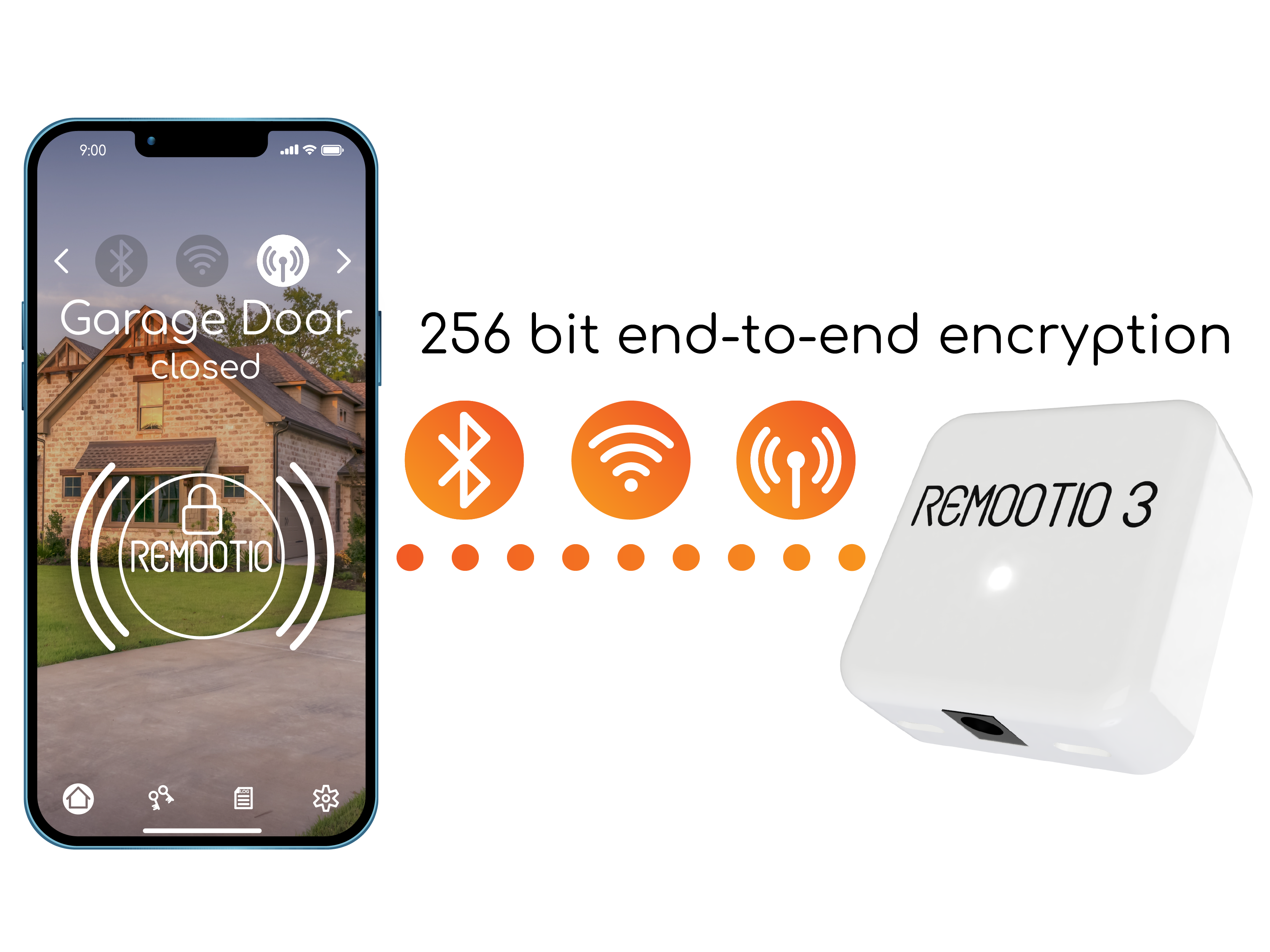 Security
Independently from whether you use Bluetooth or Wi-Fi, Remootio uses 256-bit authenticated end-to-end encryption between your smartphone and the Remootio device. 
Keys are not stored in a cloud, but in your Remootio device and your smartphone.
Small size
Thanks to its small dimensions, Remootio fits just about anywhere.
Accessories
Remootio supports the following accessories:
Gate status sensor (included in the kit): lets you check if the gate or garage door is open or closed from the app
Doorbell button: connect a doorbell button and get notifications on your phone if someone rings it
Manual control button: connect a button that people can use to operate your garage door. This button can be disabled and enabled remotely from the app.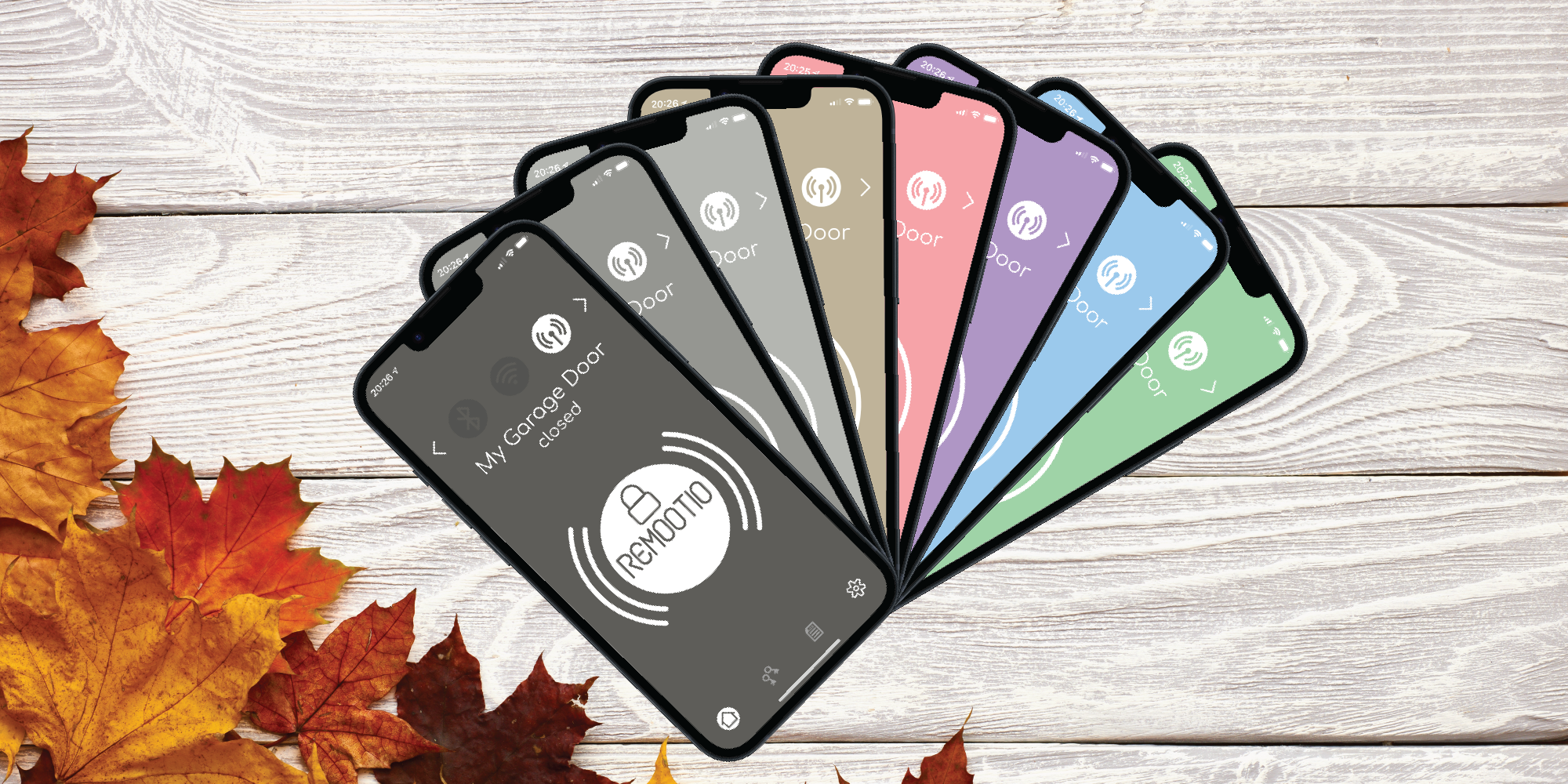 Customizable App
From the Remootio app you can easily rename, add a photo and select a background color for each gate and garage door so that you can easily find them when you are swiping through your devices.
Multiple devices
Handle multiple devices from the same app. Swipe horizontally between them. You can add as many Remootio devices as you wish.
Free smartphone app
The smartphone app is available for both iOS and Android. There are no subscription fees.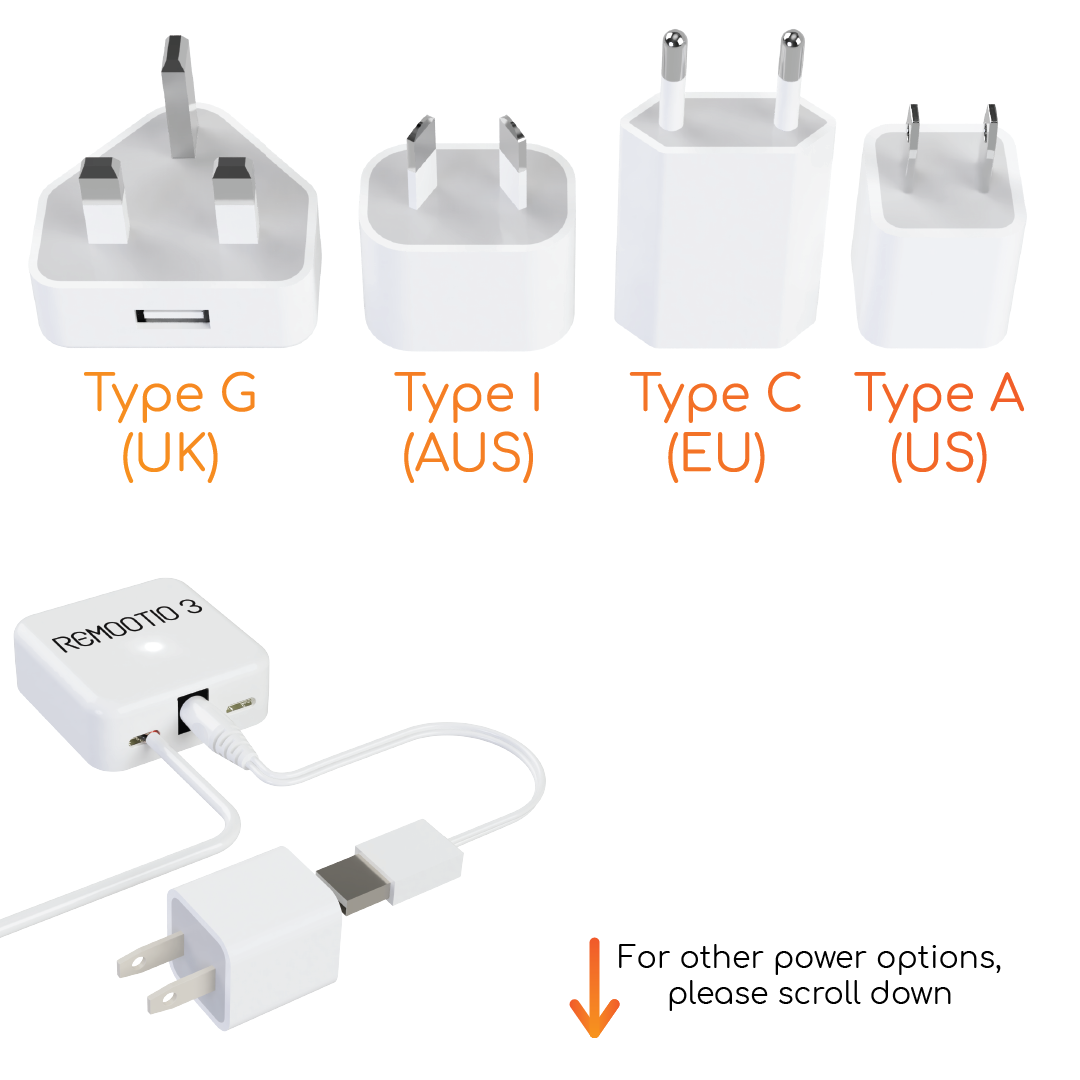 Power your Remootio easily
Power the device easily using the included 5V USB charger.
Depending on where you order from, a Type A (US), Type C (EU), Type I (AUS) or Type G (UK) USB charger is included.
Optimized for electric gate openers
Power your Remootio 3 unit directly from your gate opener. Remootio 3 has a wide operating voltage range. It can work with any voltage between
5-32 VDC & 12-24 VAC
Power consumption is optimized for solar powered gates. The average consumption is only 0.4 Watts and it can be reduced further to 0.2 Watts in low power mode.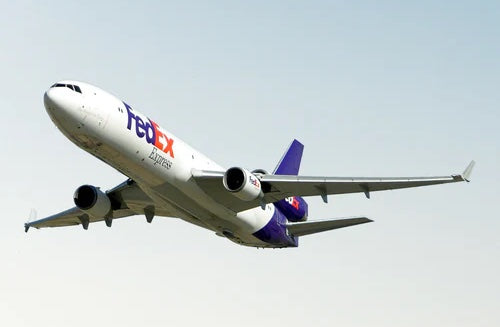 Free Express worldwide shipping
Delivery times depend on the shipping address:
United States: 1-3 business days
Europe: 2-3 business days
Australia & New Zealand: 3-5 business days
Rest of the world: 2-6 business days
Money Back Guarantee
If you are unsatisfied with your purchase, you can return the products without reasoning within 30 days after delivery and we will refund the total price of the product without shipping costs. Shipping costs are non-refundable.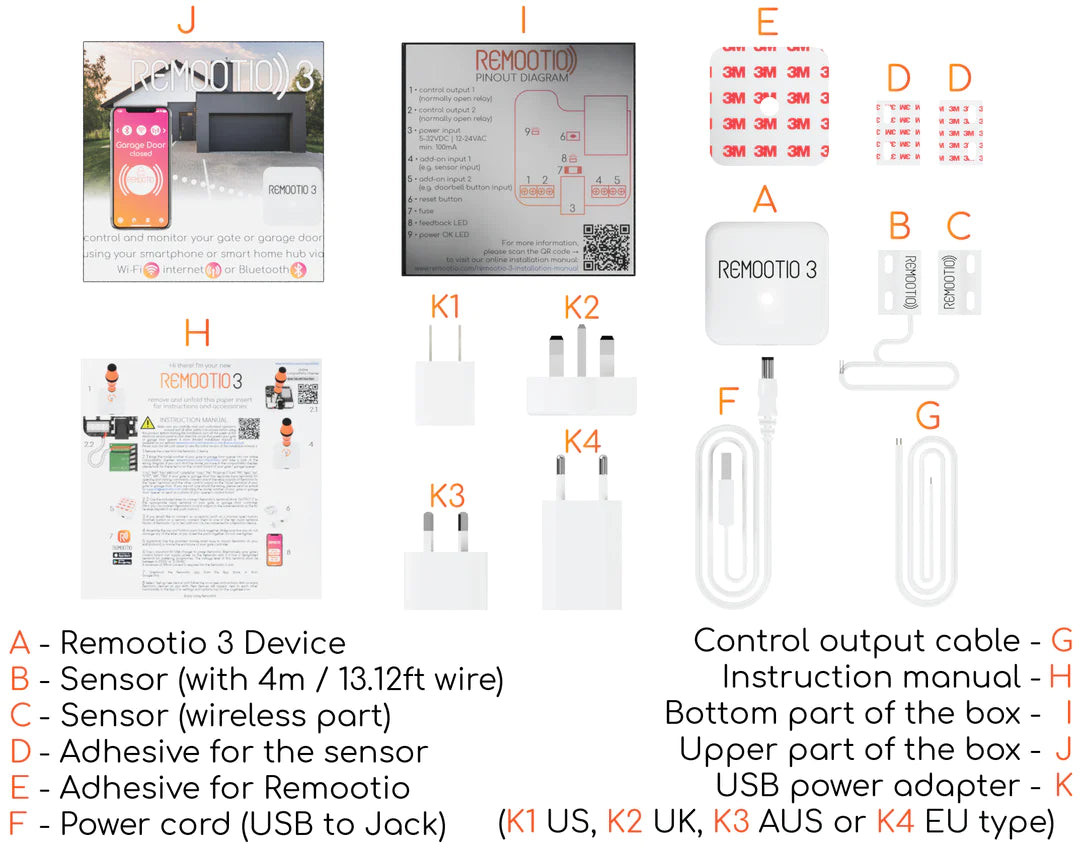 What's included in the Remootio 3 package
Sensor (for detecting if your gate is open or closed)
USB power adapter (5 Volts). Compatible with type C (EU), type G (UK), type I (AU) or type A (US) sockets. Depending on where you order from, we'll send you the correct type.
USB cord for Remootio 3 to be used with the USB power adapter
Double-sided tape for mounting the Remootio 3 device
Double-sided tapes for mounting the sensor
Cables for connecting Remootio 3 to your gate or garage door opener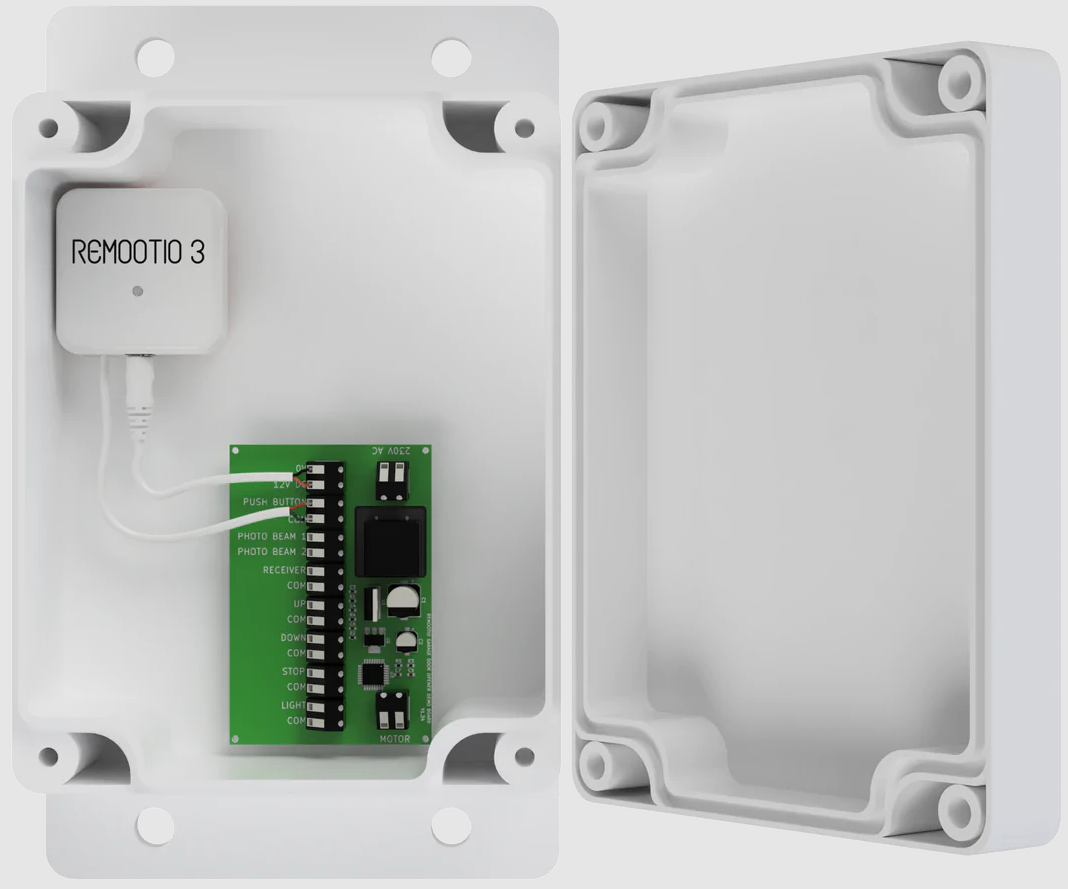 Installation
Remootio acts like a smartphone controlled push button for your gates or garage doors, so you can simply connect it in parallel with your existing wall push button or radio receiver unit.
All you need for installation is a cross head screwdriver, a smartphone and the Remootio device.
No other hub required. Remootio has everything built-in.
Remootio is compatible with most electric gate and garage door openers as well as electric strikes. Use the compatibility checker below to see if Remootio is compatible with your gates.
If you are not sure how to install Remootio, please contact us at support@remootio.com or simply use the contact form below and our support team will get back to you with the correct wiring diagram for your gate or garage door opener.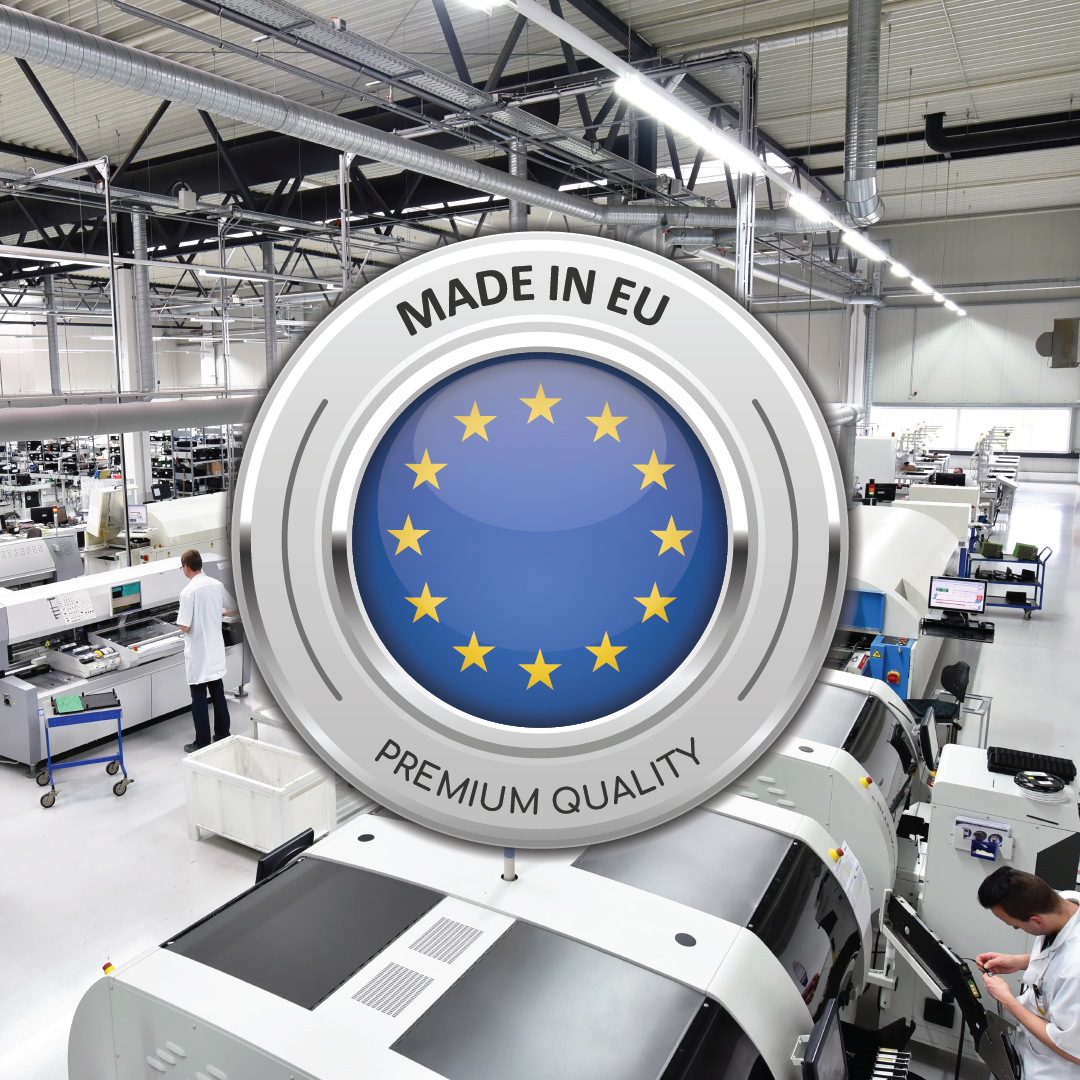 Made in EU
Remootio is designed and manufactured in the European Union.
Compatibility checker
Type the manufacturer and or model of your opener in the box below
If you have any questions about compatibility or installation, please feel free to contact us at support@remootio.com or send us a mail to 7th floor, 7-11 Szent Istvan Square, Budapest, H-1051